Kids party decoration in Alajuela
Decoration for parties and children's birthdays in Alajuela, the most original ideas for themed parties.
📷 24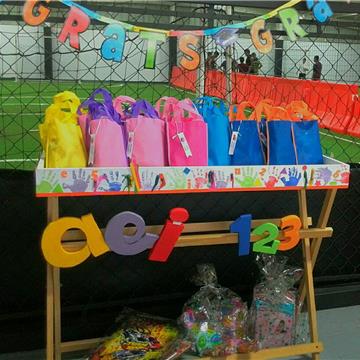 Alajuela
Company dedicated to the planning, organization and execution of social events
We have a wide variety of sizes and inflatable designs, we also have the manufacture of items for personalized parties, combos of sweet products and more!
Alajuela
We take care of the decoration of your event or party
Everything for party stuffs: balloons towers and arcs, pennants, candies bar, centerpieces, banners, candy bags, photo booth, accessories and more.
San Carlos
We make the designs, decoration and organization of your special event, money should not be a problem, tell us your budget and we will make your dream come true.
Grecia
We are a company dedicated to event decoration and planning. Our passion is to make our clients' ideas and dreams come true, through fully customized products.
Alajuela
Catering for kids, we offer products for candy bar and candy tables, all for your children's party with the theme you want.
Alajuela
We want to be part of your grand party, where you can fully enjoy adventures without stopping!! Inflate your fun with us and make your event a success, full of smiles and joy !!
Piñatas Art Espinoza
Piñatas personalized by retail and wholesale all the animated characters at the best price.
Alajuela | 8379-4362
Sweet Memories
Custom details for all occasions: corporate, children's parties, baby showers, weddings.
Alajuela | 7205-6731
Kairos Decoración & Eventos
Company dedicated to the service of animation of all kinds of Events, decoration and organization of events.
Alajuela | 4600-0058
Don't forget to mention you found them on InEventos!