Videographers in Alajuela
Videography experts in Alajuela, professional video camera, sound, and lighting.
WE SPEAK ENGLISH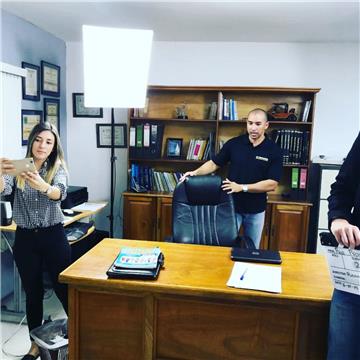 Alajuela
Rio Producciones is an audiovisual production company in Alajuela, Costa Rica, aerial drone recordings, corporate videos, testimonials, television programs, among others.
Specialization in audiovisual production and digital media, with more than 10 years of experience in the field of communication; television, radio, and independent production.
Poás
In each photographic work, the opportune and natural taking of the event stands out, giving a simple and artistic style.
Alajuela
Advertising spots, Customer Experience Letters, Institutional Business Profile, Testimonials, Video Sales Letter, New Products Launching, Multi-camera events, Documentary and more..
Alajuela
A bit of light captured in countless special moments and projects of all kinds through audiovisual production and photography.
Atenas
Photographer, Video producer and Designer, with more than 15 years of experience, specialized in Portraits and addvertising. Capture a frame of your life and transform it into art.
Alajuela
Audiovisual production and post-production.
Grecia
As a group we are dedicated to the timber trade and other businesses. The new Audiovisual Production and event room project is being developed with strategic alliances with commercial partners.
Naranjo
More than 25 years of experience as DP in documentaries, reports, advertisements, Freelancer for CANAL ART, NAT GEO, Discovery channel, BBC + DP DRONE operator for 7 years.
Alajuela
Company dedicated to Advertising Audiovisual Production, with 12 years of experience in the market.
Video Producciones Casal
Alajuela | 2442-0492