Neon parties in Costa Rica
365 24/7 DJ, NEON (lights, makeup and articles for carnival), parties, DJs, animators, face painting, Neon decoration.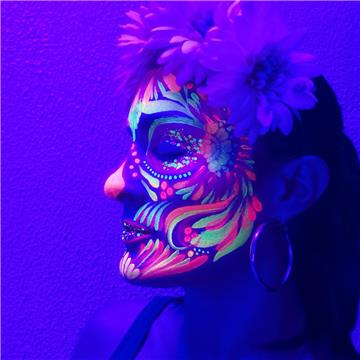 San Rafael, Heredia
We are professional fantasy face-painting and make-up artists, all our working implements are of suitable use to guarantee the care of your skin
Alajuela
Neon Party in Costa Rica, Neon party for your events: fifteen years, proms, weddings, corporate events, carnivals.
We offer everything for your Neon event. Black Light, Fantasy Makeup, Fabric Decoration, Tablecloths, Centerpieces, Carnival Items, Mobile Disco, Dj, Lights, Robot-man Drum Show
Montes de Oca, San José | 5016-7673
We organize your event, we offer the services required to make your party the best, backed by more than 10 years of experience in events.
Montes de Oca, San José | 8312-9386
Goicoechea, San José | 8409-9809
We use UV-A certified Ultraviolet equipment (395-400nm), which does not cause any harm to the human body (even children), and is super bright to provide an amazing phosphorescent atmosphere.
San Rafael, Escazú, San José | 5007-0077
We are an innovative company, which is responsible for the production of Neon events, decoration, makeup, lights and more.
Barva, Heredia | 8871-2677
Neon makeup service and rental of black neon lights for theme parties with neon. Carnival, weddings, birthdays and more. We use makeup 100% hypoallergenic.
Curridabat, San José | 8924-3900
Full PARTY Discomovil
Music on Video, Led Laser and Neon Lights, Giant Screen, Entertainer, Comparsa, Karaoke. All kinds of Events.
El Tejar, El Guarco, Cartago | 8894-7750
Discomovil Full Party VideoMovil
Full Party Videomovil and Comparsa
San José | 8894-7750
Benitú Diseño Estratégico
We are a company with more than fifteen years of experience. We meet your needs for any type of event, whether social or commercial.
Heredia | 8343-5545