Wedding planners in Mayagüez
Organization and planning of weddings in Mayagüez, advice on the selection of providers and the preparation of the ceremony.
📷 5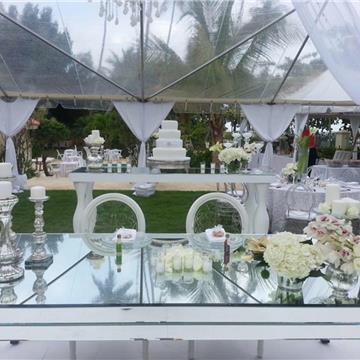 Specialty in coordination of destination weddings and local weddings.
We are experts in Bridal Image Design.
Our purpose is that you have to host not worry about bar services, we will provide the most complete packages including bars, bartenders and spirits.
Coordinator of Corporate, Government, Social and Business events.
Cabo Rojo
We work with great responsibility an event so that customers enjoy it to the fullest. All events are unique. Please contact us for a first orientation.
Mayagüez
Cuca Gesualdo Weddings and Events makes the most important day of your life a reality: your wedding will be as you dreamed it. We design a unique and romantic wedding ceremony.
All Events is your professional event planning in Puerto Rico. We specialize in destination weddings, corporate and social events. We make your event a dream come true!
Rincón | 787-556-8961
Certificated decorators and event coordinators. Packages for 25-150 guests. Florist, linens and modern equipment.
Mayagüez | 787-608-7905
We coordinate your wedding. We offer from a Full Coordination, and a partial. Call us at 787-223-5657 for an appointment
Mayagüez | 787-223-5657
MC Events is a social and corporate events coordination company with more than 12 years of experience!
Rincón | 787-604-7141
María Victoria
We coordinate your wedding from scratch, we get you the suppliers, we visit the available places and more. We also have several alternatives such as partial coordination of your wedding.
Mayagüez | 787-223-5657
Victoria María
Experts in strategy, coordination and organization are always available to help you make the right decisions to make your event a special and unforgettable one.
Mayagüez | 787-223-5657
Eva Raquel Román
Coordination of Social, Corporate and Official Events, Member Association of Professional Coordinators, Inc.
Aguadilla | 787-409-2941
RESERVATION REQUEST
ClosedAvailableNot available
Don't forget to mention you found them on InEventos!